Opportunities
»
WorldProfitsTodayBlog
»
Digistore24@WorldProfitsToday!
»
18 Memberships FREE for LIFE
»
Free Associate Membership
Specials
»
Our BEST Programs
»
Ebay: DailyDeals
»
Super Solo Ads
»
Fiverr Categories
Presented By:
Paul Germana Sr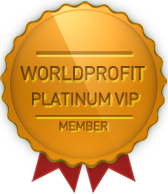 Published by: Evelyn Kramer on 10-Sep-22
Assessment Of World Profit Organization
To My Dear Sponsor,
I honestly got the chance to really ask myself how I felt about
WorldProfit
and what it is in front of our eyes; a community. I log in and I see George there, at least available. That's nice. It's little things I see, like this that help me understand ...they are the very things I'm wanting to see. While I may never have "felt" it in "WealthyAffiliate" (lol), it doesn't mean success wasn't happening there. I never felt it at GDI (and I'm glad); [although I did love the Lamborghini and the cartoon people] I wasn't interested enough to see it there. I had taken the attitude, that the best biz will be the one that stands the test of time. I invested in traffic then, knowing I would find the place where everything IS; now that I have found WorldProfit back office, I can't get overwhelmed by it. It's a whole lot like swimming in your dads olympic sized pool; of course certain diving boards off limits to the novice. (non tech savy)
Many entreprenuers HAVE stood that test of time, reinventing the free traffic resource industry again and again, like the dogs of cyberspace. It's these guys in particular, I sense a deep respect for, but whose eye of scrutiny could make me doubt anything I join or share. And it's not that they SAY ...anything; we saw them set digital precedent and we wanted to tinker with it too, (but it was time to follow) too many chiefs. We saw such guys as these storm the heights; but we wanted to find a business we were SURE would be benificial to our lists, anyone's lists. Suddenly it seemed like everyone's site was answering that call, but so many of us, including myself really needed to understand email marketing better. I didn't see the value of a system that goes straight to the mailbox, to generate free traffic. It is still the free, invisible exchange of traffic. And FREE is the key. I appreciate seeing folk like Sandi Hunter and George Kosch clarify and set those principles at the forefront of their traffic exchange and web development network.
I do not want to monitor at WorldProfit, until I'm sure I am doing my all; going back to training videos missed for whatever reason, availing myself of the lead management tool, to encourage free associates to log in. When I sit in that chair, I want to deserve it, because I can see it. The opportunity to work in tandem with the system and earn profits at it. One thing I know is this. If I send someone to ~ https://worldprofit.com/?id=64862 ~ I know they'll be my referral. I'm insulating all my links in my WorldProfit domain. It rocks like no ones business. And if I worry about "no traffic", I have first of all, those 18 sites; (all upgraded for life) and mailers, where I can surf for over 200 credits a page, for endless solo ads, webpage, banner and text ad views. Of course I needn't leave the WorldProfit homepage to find some of the most powerful site and traffic enhancing tools available on the web. It's why a year, or a lifetime platinum subscription is all the 'digital gold' a person will ever need. And the ventures I see Kosch endeavoring. That takes true grit, GUTS!!!
Paul Francis Germana